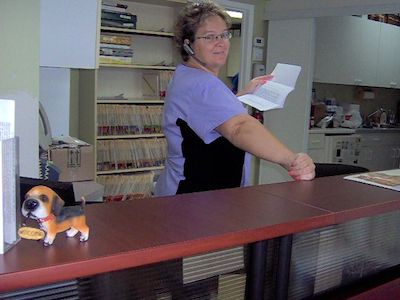 As a new client of Chippawa Animal Hospital you can expect our full attention to your pet's needs. We will always treat your pet with the utmost caring, kindness and compassion.
When you arrive, you and your pet will be warmly welcomed by one of our receptionists, typically Sylvie or Judy.
You will be placed in an exam room as soon as possible and left with a questionnaire all about your pet.
Once in an exam room and paperwork is complete, we ask our clients to push the doorbell located in each exam room. This lets the staff know the paperwork is complete, which in turn helps to eliminate wait times.
Next, one of our Registered Veterinary Technicians, Sherry or Ashley (not Ashley the vet) will enter the exam room and take your pet's vitals. They will report any abnormal findings to the acting doctor (Dr. Peggy &/or Dr. Ashley). They will complete the appointment.
Return to Reception to make payment, pick up any prescriptions, Vaccines certificates, Rabies tags, etc AND to book any follow up required.
We strive to see clients on time, and although we allocate time for emergencies, there are times where an emergency requires our immediate attention, or a procedure takes longer than thought etc. We will ensure these are minimized as much as possible
We are excited to start this new relationship with you and your furry friend(s).
Welcome to the Chippawa Animal Hospital Family