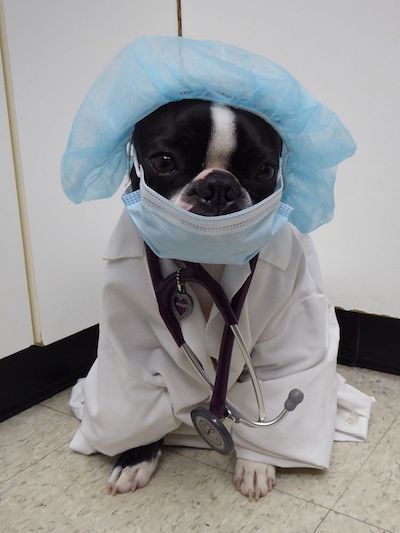 We are committed to providing you with the latest in pet health information. This information is for educational purposes only to help you understand your pet's healthcare needs. Please contact us directly for specific concerns about your pet.
A tool to help you decide if your pet's symptoms require veterinary attention and how quickly that attention is needed.
Over 1200 articles professionally written and updated by practice experts and reviewed by practitioners to bring you the most up-to-date high quality client information.
A series of helpful short videos on dog and cat care.
Hello to all our clients and a shout out to all our special patients
Our gang of dog and cat lovers at Chippawa Animal Hospital is reaching out to let you know we are all doing well, and we hope you are, too. The big news is that the Ontario government has removed the restrictions to your pet's routine care!
-So now we can do elective procedures such as Wellness examinations, vaccinations, routine testing for heartworm, lyme disease, and intestinal parasites as well as spay and neuter surgeries.
-Please review your emails, texts and phone messages to see if you got any reminders in the last 8 weeks to bring your best friends in to visit us. We will help you get them caught up on everything as soon as possible.
Phone calls
-Our phones are still very busy. If you get a busy signal or you are diverted to voicemail try again a few minutes later, or…
-If you don't have an urgent problem, please use our email [email protected] when you need to contact us. There is a link on our website https://chippawavet.com and on our app PetPage as well.
Review of Pet visit protocol
– Our building is too small to keep the social distancing guidelines inside. Therefore only the Chippawa Animal Hospital team will be allowed in the clinic, and we will all be wearing face masks to help keep each other safe.
-When you come here for a pre-booked appointment please remember to bring your cell phone. Call when you get here for instructions. As soon as we are ready we will let you know so that you can put your pet in our clinic vestibule where we will retrieve them.
-PLEASE stay in the parking lot and stay available for our call to you. (Don't start calling all your friends, please!)
-We will call you on your cell phone as soon as we have finished the physical examination. Then we can discuss our findings and recommendations and costs involved. Once you have made a decision we will follow through with any tests or treatments, and we will make up medications for you to take home.
-We offer credit card payment over the phone, or e-transfer. Please do not pay by cash or check.
For medication and food pickups
-We are putting purchased items out on a table in front of the clinic for you to pick up at a time previously arranged. These will be labelled. Please don't handle items labelled for someone else.
-If the weather is inclement call us when you get here, open your trunk or hatch and we will bring your items out to you.
Finally
-Please maintain 6 feet between yourself, our team, and anyone else who may be coming to pick up items, or bringing a pet to us. Wearing a cloth mask is a sign you care about the other person's comfort and safety, even when you don't feel sick. And it is amazing how the simple act of washing our hands for 20 seconds can truly make us feel like we can make a difference.
All our best to you and your families, furry and otherwise, from Dr. Peggy, Dr. Ashley, Sylvie, Sherry, Judy and "Tech" Ashl
With Warm Regards,
Chippawa Animal Hospital
3808 Bridgewater St
Niagara Falls, ON L2G 6H4
905-295-8111